Urgent Power: A Mobile GE Gas Turbine Will Help Supply Energy in Wintry, War-Torn Ukraine
General Electric, Cambridge, US
Feb 07, Tue, 2023
On an average winter day in Ukraine, temperatures barely creep above freezing. Millions of residents, driven from their homes since war broke out nearly a year ago, huddle against the cold in makeshift shelters and bombed-out buildings. Millions more brace for the blackouts that have become routine since Russian forces began targeting power utilities in October. As Ukrainian electrical crews — working day and night, often in the face of military bombardment — take up the mantle of frontline defenders, GE Gas Power is helping by working with its customers to provide crucial power generation technologies.
A GE TM2500 aeroderivative gas turbine was recently shipped to Ukraine from Arizona on a Ukrainian Antonov cargo plane to help support emergency power needs in the country. The portable turbine was purchased by USAID, the United States government's humanitarian and foreign aid agency, to help Ukraine restore power where it's needed most.
"GE is uniquely positioned to be able to support Ukraine in their infrastructure rebuilding efforts, and our mobile aero technology has a proven track record for emergency power response situations due to its mobility, reliability, and flexibility," says Aman Joshi, the general manager of GE's aeroderivatives business at GE Gas Power, which is part of GE Vernova. The arrangement with USAID, he adds, "is really symbolic of the kind of support GE can provide to countries that are in need of urgent power infrastructure."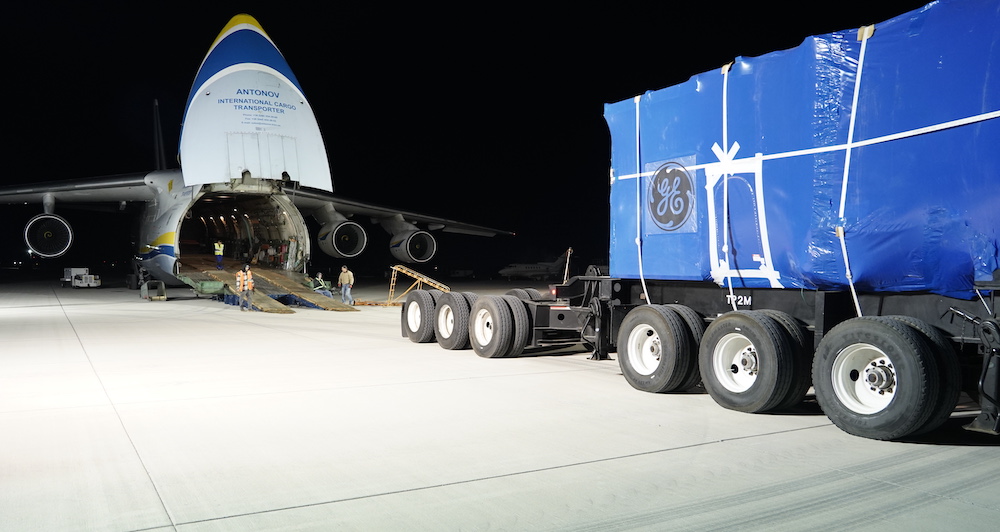 The TM2500 being loaded onto an Antonov cargo plane in Arizona before departure. Images credit: USAID
In simple terms, the TM2500 is a giant, mobile gas generator — a power plant on wheels, Joshi says. (TM stands for "trailer-mounted.") Whereas building a new plant takes one to four years, the approximately 28-megawatt machine, capable of powering the equivalent of more than 100,000 homes in Ukraine, can be trucked to a location and attached to a damaged power plant, or hooked directly into the electrical grid, within a few weeks.
Based on the technology behind GE's CF6 jet engine — which powers the Boeing 747 and the Airbus A310, among others — the aeroderivative turbine delivers with the speed and efficiency of an airplane. Once in place, it can power up and shut down in just five minutes, providing emergency responsiveness and reducing fuel waste. And where fuel is limited, the TM2500 offers a range of possibilities: It can run on natural gas or diesel, as well as sustainable aviation fuel blends. In addition, the TM2500 is hydrogen capable, with the ability to burn up to an 85% H2 blend, ensuring a pathway to help utilities and other stakeholders to reduce their carbon emissions.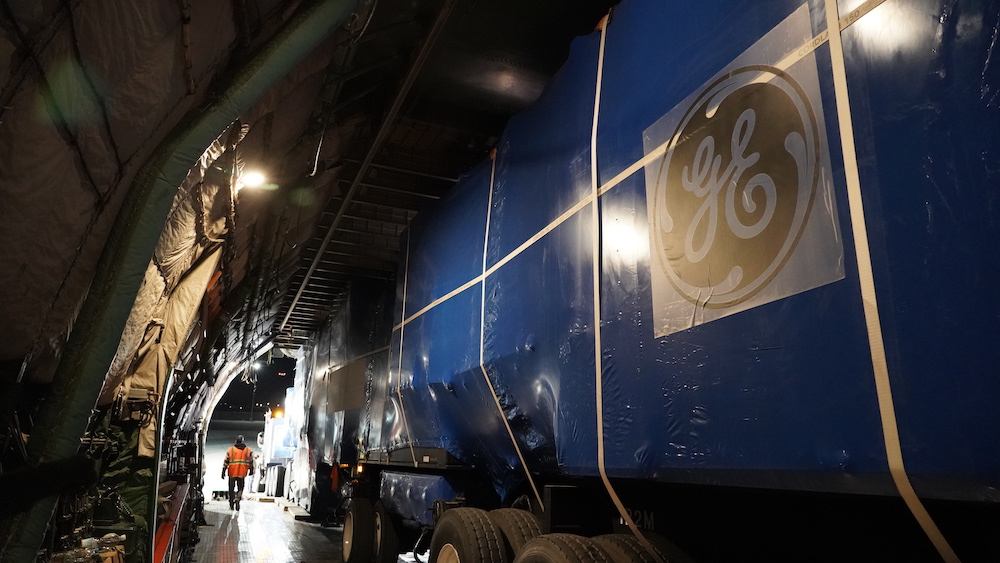 "In 20-plus years on the marketplace, more than 300 units have been put to use in about 30 countries worldwide, totaling over 6 million hours of operating experience," says Midaht Mirabi, GE Gas Power's aeroderivatives CEO for Europe, the Middle East, and Africa. "In Europe, GE's TM2500 and other aeroderivative units were the ideal solution for energy security at this time of crisis. The units have been deployed to provide fast emergency power in Ireland and Switzerland and powered local communities on remote Greek islands, and will now help Ukraine increase the supply of electricity where it is needed, which may include homes, hospitals, schools, critical infrastructure providers, and other institutions."
GE worked closely with USAID's Energy Security Project (implemented by Tetra Tech) to be sensitive to the security and urgency of the power emergency in Ukraine. "The situation is pretty severe," Joshi says. "The Ukrainians know they need a lot of power, but it's like a moving chessboard, because every week something new is happening and something new is getting damaged."
Once in place, the turbine could help keep Ukraine's lights on and water flowing into taps. "It might be very difficult, because it's a war zone," Joshi says, but GE will be involved and will coordinate with contractors and local crews to get the TM2500 up and running as soon as possible.